The Black Jumpsuit/Gloves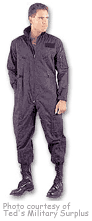 The movie-used Biker Scouts wore some sort of black, motorcycle racing suit under their armor. Unfortunately, no one has been able to identify the make/model of the screen-used suits. The costuming community feel that they were indeed automotive racing suits due to the suede crotch panels and custom tailored look that the screen-used suits display.
Currently, fans are using Redkap brand Coveralls, Generic Racing Crew Coveralls, or generic black aviator flight suits for their biker scout jumpsuits. You will need to seam-rip all external pockets and ID panels off the outside of the clothing. Also, you want to alter the "bagginess" of the aviator flight suits and make the clothes conform to your body shape a little more than it normally does. If you do not, the cloth material will bunch up in your arm, shoulder and leg areas, making the black undersuit look bulky where it should not. IT doesn't have to be spandex tight, but it shouldn't be baggie either.
Suede Panels and Elastic Bands
In the crotch area, you will want to sew suede panels to the jumpsuit to match the ILM jumpsuit. Also a 1.5 inch wide elastic band wraps around the outside of each leg at mid thigh. This elastic is sewn into the seamline of the crotch suede panels. -reference image coming soon-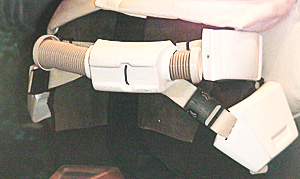 A squarish panel of black suede also hangs over the back of the bottocks area. Most fans are sewing this suede patch to the belt line of the jump suit, allowing it to hang down like the movie used costumes.
Flightsuit Alternatives
If a jump suit is not available in your area, I suggest using a pair of black pants and a black turtle neck shirt. Polyester or synthetic fiber is a good choice for the shirt and pants, for it will not fade as you wash your costume from time to time (you do wash the costume after wearing it, correct?).
The Gloves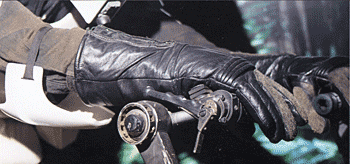 The leather gloves used by ILM were ESPIRIT motorcycle gloves, made in the early 1980's. Espirit discontinued these gloves after a short run and they do not offer them anymore. Very rarely, once a year or so, a pair of Espirits are seen on Ebay.com.
Identifiying details about the screen-used gloves:
Leather (black)
Gauntlet style
4 ribs along knuckle area
"V" shape stitching in back of the gauntlet (where plastic zipper has been cut away)
Suede leather (black) around the thumb and neighboring two fingers
Cut-away palm strap visible in side seams of glove
Padded liner inside of gauntlet has been removed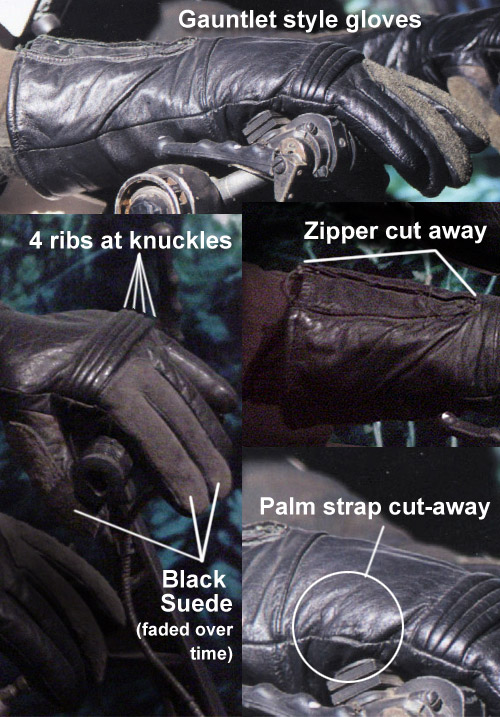 Good Alternatives...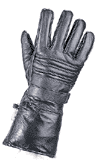 Wampawear sells a custom made replica pair of Biker Scout Gloves based on the Espirt design. Suede on the fingers, 4 ribs on the knuckles, and V-zipper in the gauntlet. $60.00 USD.


A less accurate gauntlet-style glove, but still useable, can be found at http://bikerleather.com for $19.99 USD.
Item # BGL2066-11 ... Sizes: XS-3XL.

-end section
©2010 Studio Creations - All Rights Reserved