Blueprinting Example - Jack Sparrow Compass (page 4 of 4)
Blueprinting the Box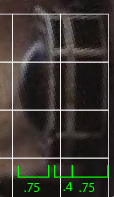 Using the side shot reference photos, we determine the compass box heights are:
compass box is .75 inches tall
lid is .4 inches tall
the dome protrudes .75 inches high
Using the measurements of the Top blueprints that we have already created, we'll make the side shot blue prints.
The saving grace on this project is the fact that all the sides are the same so we only need to make one blueprint for a side and one blue print for the beveled edge. If all the sides of a replica are to be slightly different, we would need to make blueprints for each side.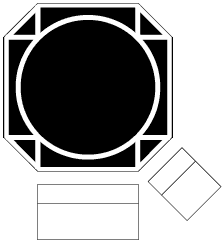 We'll lay out the pin stripping edges while we are at it.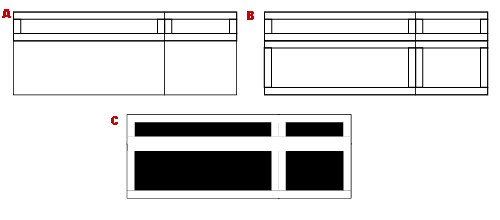 The dome
The dome is a special problem in itself. If you carefully look at the side reference shots, you'll notice that the dome is not a perfect half sphere. It is more squat looking, like the top part of a half sphere, not the entire half sphere.
Upon looking at the calculations we realize that a sphere with a diameter of 2.125 inches would have the radius of 1.0625, but we know that the dome only protrudes .75 inches off the surface of the compass box. This means the propmakers of the movie compass used a larger sphere to create this dome.
Thank god for the advent of the Adobe Illustrator software. Within a few minutes I have scaled a circle to fit the parameters needed. 2.125 inches across but only .75 inches high. The final circle is 2.25 inches in diameter.
Add this to the compass blue print and this is what you get.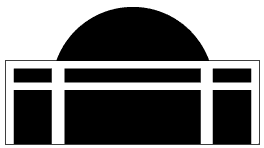 The Final Blueprint
Below is the final blue print of the Jack Sparrow Compass in PDF format. you'll need the adobe acrobat plugin to view the blueprint in all it's glory. I've included a scale ruler for you to check the print out against any distortions in size that might happen during printing of the file. If the size needs to be adjusted, you'll have to open your PRINTER PREFERENCES in your software application and change the printers settings. Sometime the PC/WINDOWS computers will print things 20% too small and you'll need to change the print size to be 120%.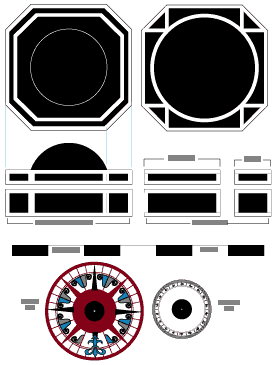 Click Here for the PDF file
Contact Us if you have any questions about blueprinting or costume/propmaking in general. We are here to help.
- end "Blueprinting Tutorial"
©2010 Studio Creations - All Rights Reserved