Welcome to DH2
Here at Studio Creations we try to give the budding costumer the necessary information about certain tips and tricks that go into making professional style costumes and props that are used in the Hollywood Movies.
Not sure where to begin on a project? We have a basic primer on costuming and prop making.
If you actually make something because of our tutorials, please, Contact Us and let us know. We enjoy seeing what fans are making from the information we are giving.
SciFi, Fantasy, Horror ... We love it all!

The green face-masks above were made from vacuumformed plastic. Vacuumformed plastic is one of our favorite materials for costume and prop making. A lot of people prefer using fiberglass in lieu of vacformed plastic. Each material has it's advantages and disadvantages (one day I'll write a blog article about the differences of the two.)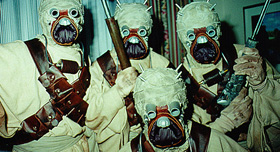 These Tusken Raider costumes were some of our all-time favorite costumes to work on. Check out the tutorial on creating these characters, it's one of the longest running Star Wars costume tutorials on the internet.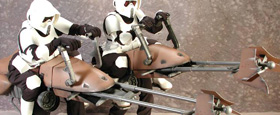 DH2: RANDOM BLOG
You can make theatrical costume armor from various materials...
Fiberglass, slush resin casting, paper machie and vacuumformed plastic are the most common methods used today by most hobby costumers. A few craftsmen have been bold enough to delve into the art of metal fabrication with their armors, but that is only for the 'brave and bold'. Working in metal is very costly, and takes a lot of brute strength to see an armor to completion.
We here at Studio Creations, we prefer making our armor from vacuumformed plastic. Vacuumforming is the most economical and fastest way to make multiple armors at once, and it's how they made the armor in the Star Wars movies, so we tend to go with the materials used in the movies to when replicating something. Fiberglass is our second preferred method of armor making, but it does get messy at times, and the fumes will drive you out of the studio too. Paper machie... though it is the most cost effective method, it is a time consuming technique so we only use it when the budget calls for it.
Vacuumforming is relatively safe for all costumers to try out. The plastic does give off some fumes when heated, so know your tolerance levels before committing to an all day vacuumforming session. Always vacuumform in a well ventilated area, and never walk away from the plastic as it's being heated.
Email us any questions you have!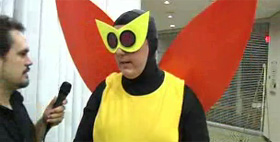 At the Dragon*Con Convention, we videotaped interviews with a few of the hard core costumers at the convention. Check out these interviews. A lot of good information about techniques and materials were divulged here.
©2010 Studio Creations - All Rights Reserved