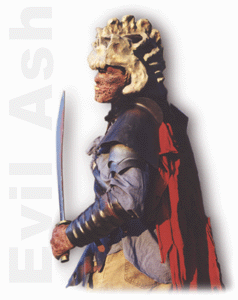 Introduction
Alright you BoneHeads, now lissen up! This is my Boom Stick!! Well.. actually it's my paintbrush, but that won't keep me from cracking some skulls if you all get outta line! You wanted info about how to make your very own Evil Ash costume for Halloween and those geeky conventions that you attend throughout the year.

Well Here Ya Go!

Step right up as I go into as much detail as time will allow me to on how to make a latex mask, plastic replica armor and a few other things. All in the hopes to educate you about the making of the EVIL ASH costume. note: This website is not 100% complete yet

NOW WHATCHU WAITING FOR!!! CLICK THOSE LINKS OVER THERE!!!!!!

If you actually start building your own Ash Costume, please, Email Us. We here at Studio Creations thrive on the knowledge that people actually use our HOW TO tutorials.