The Finished Pictures
Here's the Blaster Rifle in it's finished glory. Click here to see other fan made blasters.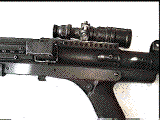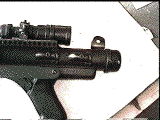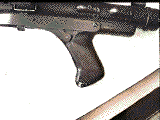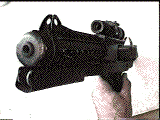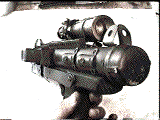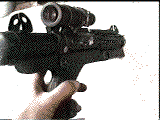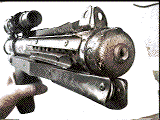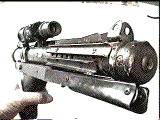 Other Fan Made Blasters
Sergio Herrera' s Metal Blaster

Steve Ellis' PVC Blaster

Steve did an amazing job with his blaster. He decided to use a lighter material than the metal I used. he used PVC conduit and other plastic parts. Steve gave us some insite into the creation of his replica prop,

"The main body was made from 25mm PVC cable conduit. The strap rings were pinched [taken] from my toolbox, and the majority of the detail pieces are various plastic profiles from work.

The grip was made from two pieces of MDF cut on a scroll saw and laminated, this gives the recess in the grip for the selector switch.

I have yet to finish the trigger guard and the arms for the stock, which I decided to fix in place. "
    Good job Steve. You inspire us all!
Troy Adams' All Metal Blaster

Troy Adams took some initiative and built a full metal blaster. He custom made the front and rear sights to look more accurate to the original Sterling SMG (see template below). The folding stock took him a while to understand how it folded up, but once he got some pointers and researched a couple sterling-smg websites, he figured it out.

Way to go, Troy! Now your stormtrooper costume is complete!
Darth Orsan's Full Metal Blaster

Darth Orsan from Puerto Rico made this amazing Full Metal blaster. He took his time and detailed this replica very well. Notice that he used a metal cap from a chainlink fence for his E-11 Endcap. Very ingenious use of real-world items that he had laying around his house. KUDOS, Darth Orsan.!
Vey's Full Metal Blaster
Vey built an exquisite E-11 Blaster replica in 2006. She put in alot of hard work to recreate the blaster as accurately as she could. She went above and beyond what we did with our Hardware Blaster. She shames us with her attention to detail. :)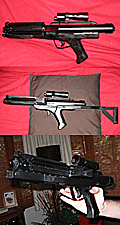 Dhruv's Full Metal Blaster
Dhruv built this hardware blaster (complete with folding stock) in 2006. He was 11 years old. Sure, he had some help from family, but he's still only 11 years old. YOU GO DHRUV!!!!!! YAHHHH!!!!!